Nestled between Lake Couchiching and Lake Simcoe, summer camp Orillia has something cool to discover every day! At summer camp Orillia, we provide fun hands-on learning to introduce your child to the wonder of science, technology, engineering, and math. Weekly themes will pique your child's interest and build lasting memories. Believe in the power of curiosity with summer camp Orillia.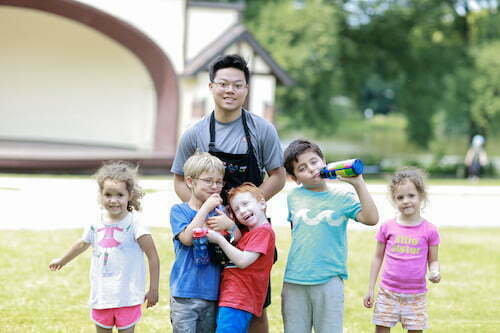 ---
---
Location Details
Dates and Availability: August 3 to August 27
August 16 – August 20: Week Sold Out
August 23 – August 27: 8 Spots Left
Camp Type: Weekly Day Camp
Focus: Fun and Education in the STEM fields (science, technology, engineering and math)
Address: St. Paul's United Church – 62 Peter Street North, Orillia, L3V 4Z1
Pick-up and drop-off instructions: Come in from Peter St N to the parking lot beside the church. Please remain in your vehicle. Form a drive-thru drop-off queue starting from the blue circle shown below, following the pink path. The health and safety coordinator will approach your car and deliver the COVID declaration and sign-in forms. Once they have been completed, your camper will be escorted inside the facility.
When you pick up your camper, you will be required to show a photo ID. Only parents or "authorized pick-ups" listed on the camper's campsite profile are allowed to pick up the child.
Registration: Opens February 1, 2021
Cost: $155.00/week
Activities: Summer Camp Orillia involves both hands-on and computer-based activities for double the STEM fun! Hands-on activities include engineering design challenges, science experiments, and coding and robotics programs featuring camper's favourite robots, Edisons, and Ozobots. This summer, campers are required to bring their own laptop or tablet to camp which they will use to code Edison robots and the new Micro:bit! Computer-based activities also utilize programs such as Scratch and Minecraft for campers to code, build, and further explore the wonderful world of STEM. Each week, activities follow one of four exciting themes including Star Wars, Harry Potter, Minecraft, and Superheroes! For more details on weeks, themes, and activities go to our Activities Page.
COVID-19: STEM Camp is preparing to operate in-person and virtual camps this summer. We have every reason to believe through our discussions with the Ontario Camps Association and their relationships within the Government of Ontario that summer day camps will proceed. In preparation for in-person camps, STEM Camp has prepared its Return to Camp Guidelines document (found on our FAQ page) which will be continuously updated as new health and safety regulations are announced. We have also introduced our No Risk Refund Policy to ensure families receive a full refund (also found on our FAQ page) in the unlikely event that Summer Camp Orillia has to be cancelled. The health and safety of your children in our care will always be our primary concern.
---
You may also be interested in…
Are you an elementary school teacher in need of funding for a STEM project in your classroom? Check out our STEM Camp Foundation!