Canadian Space Agency + STEM Camp
STEM Camp and the Canadian Space Agency (CSA) collaborated as part of STEM Camp's space unit during the summer of 2018. The partnership involved several initiatives designed to inspire curiosity in campers and provide memorable experiences that made an impactful impression upon them.
"STEM Camp is pleased to be partnering with the Canadian Space Agency this summer. You never know what that one experience might be that inspires a child toward a career choice or to make a contribution to the world in some way. We hope to hear in the future of a Canadian astronaut that was inspired through our relationship with the Canadian Space Agency and we are extremely grateful to them for their support of STEM Camp".
 – Kevin Cougler, Executive Director, STEM Camp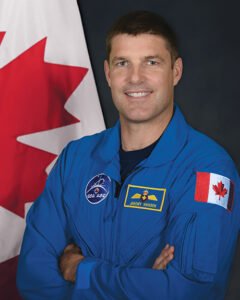 Ask an Astronaut! – Campers submitted questions, via social media channels, for Canadian astronaut, Jeremy Hansen to answer. Some of the questions included:
"Why did you want to become an astronaut"?
"What is it like in space"?
"What do I have to do to become an astronaut"?
Jeremy reviewed all of the questions and created a special video answering those questions that was shared at all STEM Camp locations that summer. 
Learn more about Canada's active astronauts here.
Canadian Space Inventions
Canadian Space Inventions – Did you know there have been several Canadian inventions for space, not just the Canadarm and the Canadarm2?  One of them is the new AstroSkin, which is a smart shirt for space that was deployed at the International Space Station in 2018. 
Campers participated in an activity where they learned about all of Canada's contributions to space travel, not just at NASA but at other space agency's around the world. Canada has a lot to offer!