Canadian Space Agency + STEM Camp
STEM Camp was launched in the summer of 2013 opening in two locations: Woodstock and London. At the time, STEM Camp was a pilot project of Canadian charity, Partners In Research. Dr. Robert Thirsk, Canadian Astronaut, served on the Advisory Board for Partners In Research from 2011-2014. STEM Camp created a space unit for campers in its first year that gave campers an opportunity to build and launch rockets at camp. Dr. Thirsk was a great supporter of the new STEM Camp concept that he personally signed an autographed picture for every camper that year.
"I was Bob could have seen first-hand the smiles on the faces of the campers that year when we handed them his autographed picture. Most children never get a chance to be in the orbit of someone like Bob and to come one step closer that first summer was impactful and meaningful. I will forever be in Bob's debt for helping us get off the ground with STEM camp."

– Kevin Cougler, Executive Director, STEM Camp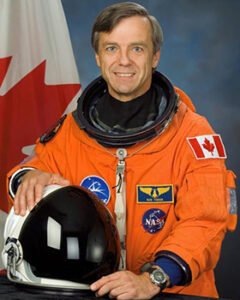 Dr. Robert (Bob) Thirsk was selected in December 1983 for the Canadian astronaut corps. He began astronaut training in February 1984 and served as backup payload specialist to Marc Garneau for the October 1984 Space Shuttle Mission STS-41G.
Bob has been involved in various Canadian Space Agency (CSA) projects, including parabolic flight campaigns and mission planning. He served as crew commander for two space mission simulations: the seven-day CAPSULS mission in 1994, at Defence Research and Development Canada in Toronto; and the 11-day NEEMO 7 undersea mission in 2004 at the National Undersea Research Center in Key Largo, Florida. He led an international research team investigating the effect of weightlessness on the heart and blood vessels.
In June and July 1996, Bob flew as a payload specialist aboard Space Shuttle Mission STS-78, the Life and Microgravity Spacelab (LMS) mission. During this 17-day flight aboard Columbia, he and his six crewmates performed 43 international experiments devoted to the study of life and materials sciences. 
In 2009 Bob became the first Canadian astronaut to go on a long-duration expedition aboard the ISS. He and two crewmates launched from the Baikonur Cosmodrome in Kazakhstan on May 27 aboard a Russian Soyuz spacecraft. When their Soyuz vehicle docked with the nearly complete Station two days later, the ISS became home for the first time to a permanent crew of six. As members of the ISS Expedition 20/21 crew, Bob and his five international crewmates performed an unprecedented amount of multidisciplinary research, complex robotic operations, and maintenance and repair work of Station systems and payloads. Bob Thirsk lived and worked in space for 188 days during this second voyage to space, which ended when he landed back in Kazakhstan on December 1.
Source: Canadian Space Agency
Learn more about Canada's former astronauts here.