Canadian Space Agency + STEM Camp
STEM Camp and the Canadian Space Agency (CSA) collaborated as part of STEM Camp's space unit during the summer of 2021. Dr. David Saint-Jacques visited forty six (46) camp locations in Ontario virtually impacting the lives of hundreds of children aged 5-13.
"STEM Camp is very grateful for the time that David spent with our campers during the summer of 2021. After a summer of no summer camp experiences for children, it was more important than ever for children to have camp and interactions with incredible people such as David. Thank you for making such a huge impact last summer David!"
 – Kevin Cougler, Executive Director, STEM Camp
David Saint-Jacques, Astronaut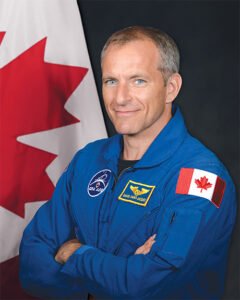 Dr. David Saint-Jacques was selected in May 2009 by the Canadian Space Agency (CSA) and moved to Houston to be one of 14 members of the 20th NASA astronaut class. In 2011, he graduated from Astronaut Candidate Training, which included International Space Station (ISS) systems and procedures, spacewalks, robotics, T38-N flight training, field geology training, Russian language, and wilderness summer, winter and water survival training.
Source: Canadian Space Agency
Learn more about Canada's active astronauts here.
David Saint-Jacques inspiring STEM campers